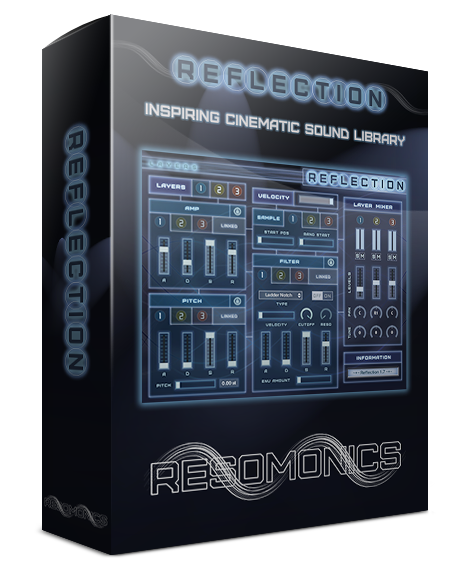 Available exclusively from Kontakt Hub
Features
Up to 3 layered sounds with mixer

Amp, Pitch and Filter Envelopes for Each Layer

Sample start position for each layer

435 Designed Presets

Pan, Pitch, Gain & Filter LFO's per layer

Powerful Rhythm & Pulse Generation

Step Sequencer & Arpeggiator with powerful randomisation

10 Send / Insert Effects with send levels per layer

Compressor & Equaliser

96 Raw Patches for Sound Design
Preset categories
Pads

Synths

Arpeggiated

Rhythms

Bass

Ambients

Soundscapes

Distopia

Multi-Rhythm's / Pulses

Cinematic Noises & Hits

Drones

Percussion
Specification
For Kontakt 5.6.5+ (NOT compatible with Free Kontakt Player

Installed Size: 830MB

Patches: 435
Inspiring Cinematic Sound Library
Winner of the ANR Sonic Joy Award for one of the Best Sample Libraries in 2017.
Reflection (now at version 1.7) is an inspiring Cinematic Sample library and toolkit for composing Soundtracks and trailers. Perfect for anything from a subtle underscore to driving action and a whole let more (check out the '80's Toy Heaven Demo track!).

It contains 435 presets with everything from Evolving Soundscapes & Distorted ambience, to Lush Pad & complex Rhythms. It has a highly flexible interface with a multitude of tools for designing your own sounds, rhythms and arpeggiations.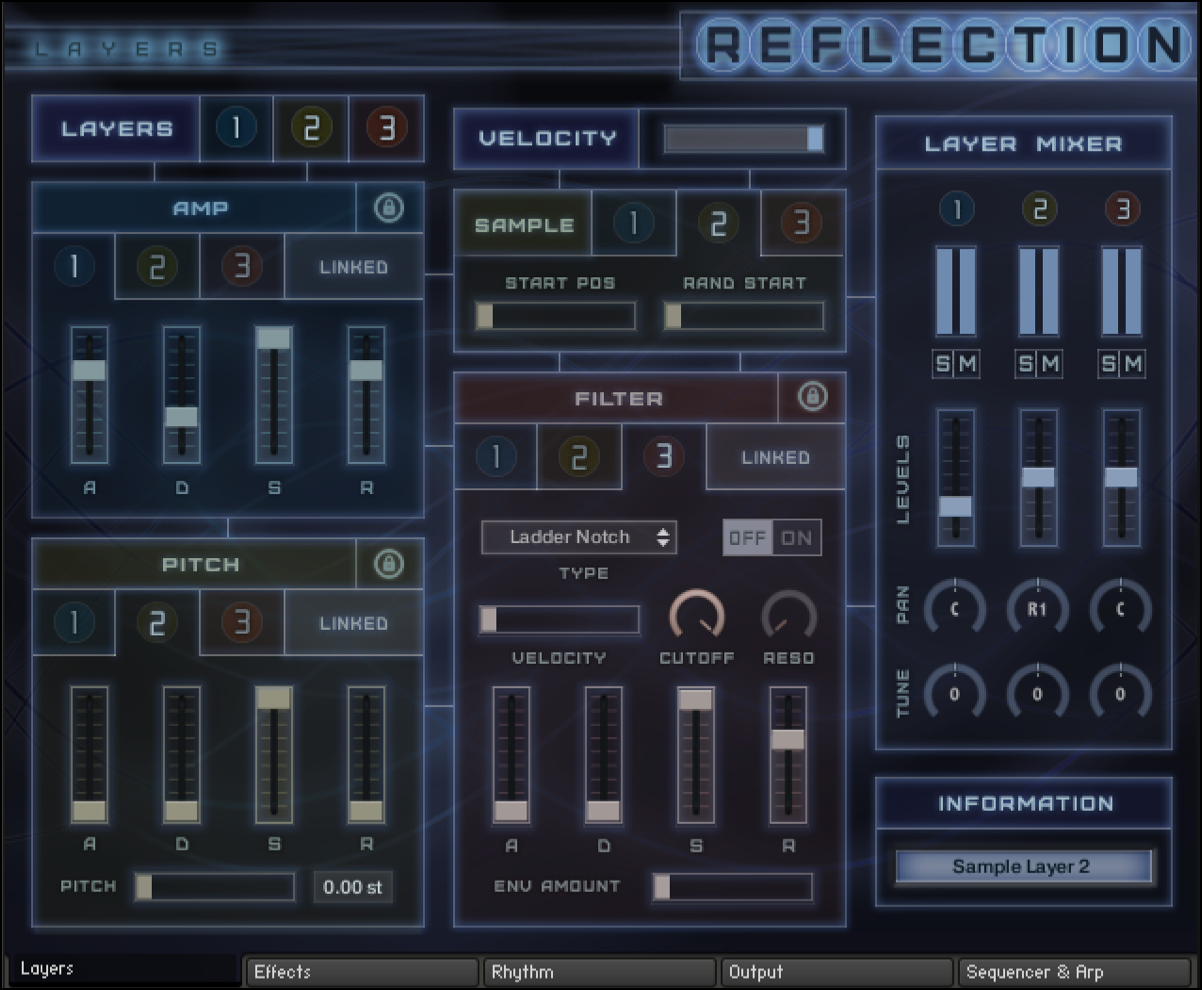 The tools include various envelopes to shape the sound, insert and send effects, sequencers and LFO's to create tempo synced rhythms and an arpeggiator with powerful randomisation features. In addition, up to 3 samples can be layered and mixed either using the included samples or importing your own. Each layer can have separate Amp, Pitch and Filter Envelopes, as well as adjustment of the Sample start position. From version 1.6 you can now have separate LFO's and filter sequences for each layer as well as adjusting the level of send effect per layer. For 1.7, you can even choose from 6 different filter types.

The sound design possibilities are huge and you can even import your own samples to design with.

The included samples (over 950) are exclusively recorded from two 80's 'toy' keyboards and processed to get the best sound quality. The sampled waveforms have a lovely raw & imperfect character, and are a great starting point for the library. Some of the samples were also 'mangled' through various means to produce more complex sounds.

All the samples were then meticulously designed in Reflection taking advantage of all the tools available to give the 435 designed presets provided with the instrument.

Version 1.5 also introduced over 80 Raw Starter Patches containing 2 and 3 layers of samples for you to design your own sounds from scratch! As of 1.6, there are now 96.
The majority of the designed patches are mapped from C0/C1 to C6 give completely different sonic feel at the opposite ends. At the lower end, the stretched sounds produce some gorgeous deep Pads and low Bass, whilst the upper notes can offer nice smooth mellow Pads & playable Synths. You are encouraged to fully explore both with all presets to get the most out of Reflection!


Reflection
may be small in size (just 830MB installed), but it is very big on sound quality! Please take a look and listen to the Demo's and Video's below to hear and see for yourself.
At the bottom of the page you can download the full manual to see exactly what you can do with Reflection.


What's New in Version 1.7?
Version 1.7 is another update which is free for existing owners and expanding the sound design capabilities as well as providing some useful new designed patches. The update includes the following:
3 More Filter Types added to Layers Page
You can now select from 6 Filter Types for Pre-Filter Rhythm & LFO
A Different filter type is allowed per Rhythm layer
60 New Patches (Now at 435!)
A Blade Runner Inspired 'Distopia' Category (Distorted ambient synths)
Minor GUI Updates (Menu's)
Fixed some looping on Raw starter patches
Updated Manual
Minor Bug Fixes
Take a look at these videos to get a good overview of the sounds and the tools available. If you click to watch on Youtube, an index to the different Chapters is included in the description.
Here are some Demo tracks which are composed using Reflection. Apart from 'Highly Strung', each track uses one instance of Kontakt with a number of Reflection presets. . All are composed by Steve Foxon.
8/10 ..there's real depth and beauty to be found
Computer Musc Magazine
..I am loving this instrument. The sound design and temperament are very dark, edgy and stylized.
Don Bodin, Sample Library Review
..this is incredible..love it!! The sound quality is immense
Howard Carter, Composer
..I was really impressed with just how much variety there is when it comes to the different sounds you can produce
Benji Clifford, Composer
Uncluttered and user-friendly interface with power and features that allow you to quickly tweak and manipulate sounds
Kontakt Hub User
..highly inspiring and easy to manipulate. Definitely worth checking out.
Kontakt Hub User
Here's what Computer Music Magazine had to say about Version 1.0 in full
SCREENSHOTS

Reflection has a total of 7 screens to help design the sound. Hover over and use the arrows below to look at all the screens (or swipe if on a tablet or mobile).
Link

Link

Link

Link

Link

Link

Link