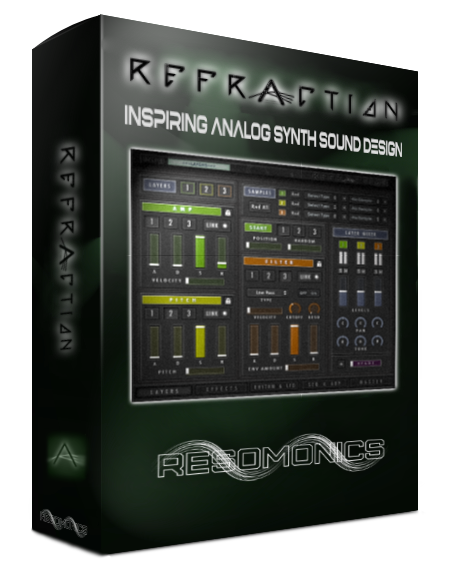 Available exclusively from Kontakt Hub
Features
Up to 3 layered sounds

3.5GB of Warm Analog Samples

Amp, Pitch and Filter Envelopes for Each Layer

6 Filter types for each layer

Sample start position for each layer

Per Layer LFO pulses and Filter Sequence

Separate Send levels per layer

250+ Designed Snapshots

Pan, Pitch, Gain & Filter LFO's

Step Sequencer & Arpeggiator with randomisation

Save and Load Arpeggiator & Sequencer settings

Monophonic & Unison Modes

10 Send / Insert Effects

Compressor, Limiter & Equaliser
Snapshots Include
Short & Ambient Synths

Ambient & Evolving Pads

Long Ambient Synths

Arpeggiated

Rhythmic

Multi-Rhythms

Bass

Noises & Hits

Xfade
Specification
For Kontakt 5.8.1+ (NOT compatible with Free Kontakt Player

Installed Size: 3.64GB

Patches: 262 (V 1.0)
Analog Synth Sound Design Library
Refraction is an inspiring Analog based Synth Sound Design library, containing everything from deep synth Bass sounds to lush evolving Ambient Pads and short analog synths to complex pulses & rhythm's . It contains nearly 350 designed snapshots utilising the Analog samples and has a highly flexible interface with a multitude of tools for shaping your own sounds, rhythms, pulses and arpeggiations. In version 1.1 a 'Simply Analog' collection of presets was introduced presenting raw analog synth sounds without the use of effects other than Chorus, as would have been the case in an 80's analog synth. These are great for authentic analog sound but also an excellent starting point for designing your own sounds.

You can layer up to 3 different sounds which can be selected from Long, Short & Sustained categories, and can also be chosen randomly, either per layer or all 3 layers together. This can be a great way to get started, putting together combinations you wouldn't have thought to.

Analog Sounds
Refraction includes just over 3.5GB of samples taken mainly from a Korg EX800 analogue synth from 1984 (Desktop version of the Poly 800), with a few samples from a Casio HT-3000 from 1987 (whilst not Analog VCO's it has an analog filter which was used in all sounds). All of the samples were recorded through a tube/valve preamp to add more warmth to the sound, and every note over 4 octaves was recorded to ensure the character of the sound was captured. Some samples were also recorded through a hardware analog filter as well as the preamp.
Layers Page
Starting here, you select up to 3 sounds and then you have access to the following tools for each layer:
Amp Envelope
Pitch Envelope
6 Different Types of Filter
Filter Envelope
Start Position
Layer Mixer
XFade Slider
The Xfade slider allows you to start with 1 layer and gradually fade in the 2nd & 3rd ones creating the possibility for building a sound or introducing a rhythmic element at the push of a fader.
Effects Pages

You have access to 5 Send effects with a send level for each layer, effectively allowing you to turn off effects for a particular layer, or add more or less effect. Available effects are Chorus, Delay, Reverb, Convolution Reverb (with custom sound design IR's) and Phaser.

You then have 5 Insert effects that affect the overall sound which can be applied post or pre-filter. The effects available are Transients, Saturation, Skreamer, Lo-Fi and Distortion.

Rhythm & LFO Page

You have access to 4 different LFO's; Gain, Pan, Pitch and Filter (with 6 Filter Types to choose from). You can adjust the amount and rate of the LFO and select Sine, Triangle, Saw, Random and Rectangle shapes – or a combination of multiple shapes! These are synced to host tempo by default, but sync can be turned off. There is also a Step Sequencer that can be applied to the Filter, complete with a random pattern feature.

Since version 1.1, you also have the option to fade an LFO in as well a the ability to Randomise the LFO shapes, expanding the sound design options!

Each layer can access all of these separately giving some powerful rhythmic possibilities.

Seq & Arp Page

This page allows you to choose from an Arpeggiator or Step Sequencer and contains a randomisation feature where you can choose which settings are randomised and the upper & lower limits to be included. All settings can be saved as a preset and loaded at a later time.

Master Page

Finally, you have the Master page which is useful for shaping the overall mixed sound. It includes an easy to use Equalizer per layer, a Compressor, a Limiter and a Stereo tool. You can also select Monophonic mode on this page, with the option for Legato, as well a Unison option with up to 4 voices and detune and spread controls.

Take a look at these videos to get a good overview of the sounds available in Refraction
Here are some Demo tracks which are composed using Refraction as well as some Snapshot demos.
After having and using Reflection for a while, and noting that the GUI and engine philosophy was largely retained, Refraction was an immediate purchase. My initial impressions is that that Refraction is darker and more ambient than Reflection but, since Refraction retains all the versatility of Reflection, no genre monotony is likely because the user-friendly interface has features that allow you to quickly tweak and manipulate sounds, even before you get to the well-implemented randomization section. If the past is prelude, I expect that Resomonics will provide good after-purchase support, including content updates. There are already a few instructional videos available. I expect that Refraction, like Reflection, will stand the test of time.
Kontakt Hub User
Taking into account that this synth is "sample based", it offers quite a lot a of control re: sound design. Pretty cleaver Kontakt script coding. UI is well thought and efficient (parameter's info appearing within the "info" filed is welcomed). It comes with enough sample sources to take advantage of the synth 3 layers architecture, and get interesting results. Sources that were sampled carefully. There's also randomizing functions to help you select those source/sources and get you started from some unexpected samples blend. You'll also find randomizing options within the "filter seq" (rhythm & lfo tab), and under the "seq & arp" tab. There's onboard effects that one can decide to bypass to use his own instead, if preferred. Note that those effects are "key switching" enable/unable, which again, could be pretty useful. While talking about effects, there's some really interesting/creative IRs (to be use with the convolution effect) onboard that, when using with, e.g., the "reversed" sample's category, could get you more into the SFX territory. Resomonics did great work with Refraction! As usual, listen/watch demos so see if it fits your expectations.
Kontakt Hub User
SCREENSHOTS

Reflection has a total of 6 pages to help design the sound. Hover over and use the arrows below to look at all the screens (or swipe if on a tablet or mobile).
Link

Link

Link

Link

Link

Link